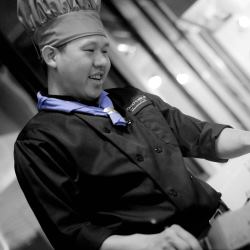 Metal Spatulas and salt n pepper shakers fly through the air and are caught behind the back. Sharp silver knives cut through filet mignon steaks, boneless chickens and fresh lobsters. Soy sauce and seasoning is added as the portions are divided onto plates of the gazing hungry customers. This is the Art of Teppanyaki Cooking.
Teppanyaki cooking is a Japanese term for "cooking on the grill", this tabletop form of cooking is a popular dining attraction that combines knife skills and an entertaining presentation. It is the Japanese form of barbecue and consists of a flat top grill integrated into tables where the chef stands as the customers surround him also alternatively know here as hibachi-style cooking.
Supporting the increasingly popular sustainable food movement, we prepare all our creations using fresh, locally sourced ingredients whenever possible and complementing our meals with fine wines and a variety of beers from local wineries and breweries.